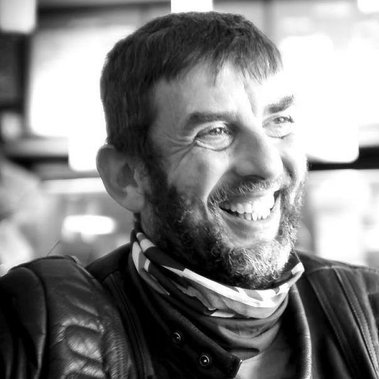 THE GUV'NOR
The Man, The Boss, The Hero, The Legend.
My name is Paul, better known as The Guv'nor which I have been affectionately nicknamed by my team, and I'm the creator of the London Motorcycle Riders Club.
Our club was set up and created in May 2014 and we have been running local and more recently European events ever since. The one question I'm most asked is "Why did you do it?". My answer, it was a moment of madness that seemed a good idea at the time... lol! In all seriousness, as a biker of nearly 40 years (I know, I don't look that old!) and having been a part of many, many bike groups and clubs over the years, I simply thought I could do it better.
In my opinion, over recent years and with the onset of social media, bike clubs had become kinda clicky. You had to ride the right bike, hold the right licence, be the right age, ride with the right people etc, and that's not what being a biker means to me. So I set out to create a riding group where everyone's welcome, regardless of their ability, the licence they hold or the bike that they ride, a club where help, support and advice would be offered, naturally doused with a liberal coat of piss taking. My expectation was that I would probably end up with 60-100 members with which I could regularly ride with and have some fun. That number just naturally grew as word spread and we now have an average membership of between 600 and 700 members at any given time.
Running the club has allowed me to make lots of new friends, some who I'm proud to say have joined me on the team and who I couldn't run the club without, each an individual who brings something different and exciting to the club and who all have the same outlook on what it really means to be a biker. So, in the spirit with which the club was created there's no fee for joining and no charge to take part in events - everyone on the team donates their time for free, which despite being a second job for most, is purely a labour of love.
If you join London Motorcycle Riders Club, you're not just joining a club, you're joining a family where you will always be welcomed and made to feel a part of, naturally you will have the piss taken at some point, most likely where alcohol is consumed on one of our many social events!
PS. I do tend to waffle at times so just stick a beer, a tea or a sticky bun in my hand if it's all getting too much for you ;-)
CARSTEN
The Second in Command
Carsten is hugely experienced in the art of motorcycling and enjoys everything about it from commuting on his trusty Dylan, to having fun on either his GS or Buell bikes. When on his 1150GS Adventure bike it's usually B and minor roads with As used to get between interesting roads. Motorways only exist to get somewhere quickly. Lanes with green dividers and fords are not uncommon on Carsten's rides! Speeds by the book in urban area's, with no looking down on NSL overtakes....
Scooter rides are on quieter roads, Bs and minor As with trunk A roads and motorways a definite no unless there's no alternative. Duration and distance of both types depend on where we're heading to and what the likely weather is - decent coffee stops always feature!
London Motorcycle Riders Club is the most active motorcycling club within the M25. Our single day events cover a range of between 75 and 200 miles, so when you're out with us it's a full day of fun. We also run shorter half day events as well if that's your preference. Each member of the Leadership Team has their own preference on the length of the day and the pace at which it is run. Rides are classed as either "Open To All" or "Progress Focused". You will soon get to know each member of the team and their preferred riding pace, number of breaks and how long the day will be on both type of events. Who will be your favourite?
Every event listing will also contain all the day's details including the expected pace of the ride, helping you to find an event to suit your style of riding.
One thing is for sure, you will have a great day out with LMRC whichever event you decide on attending.